Early summer.

My friend Naoki went home after he had been staying for half year in Hasami.
On the morning of departure, we had a casual farewell meet up by having simplified Japanese tea ceremony. I brought the tea set to his room since he already packed everything.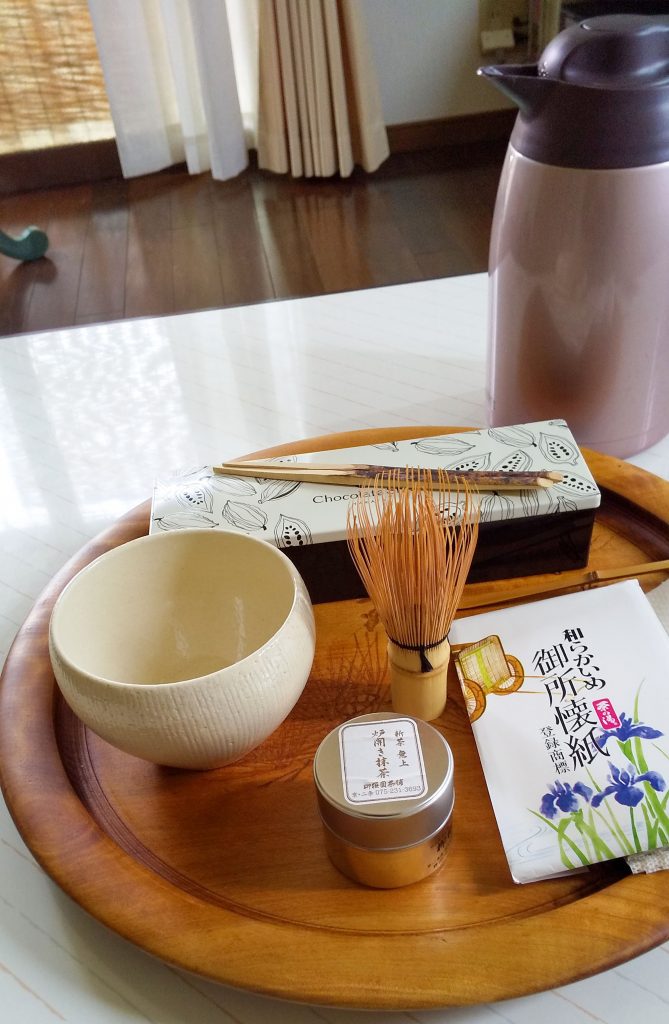 First, I offered him some sweets. After he chose his favorite one, I put it on a small piece of paper and served it to him.
Then I started to make the tea. I put some hot water into a bowl to warm it up, pour it out, and then wiped the bowl well. After then I put tea powder in the bowl and added some hot water again. Finally I mixed it well with Chasen (Japanese bamboo tea whisk) .
I was listening to him talking about his experiences in Hasami as I was making the tea.
He was talking about everything; Hasami life, food, people, hot spring and much more. When he had come to Hasami, the season was still in early springs. Then cherry blossoms bloomed, and then summer soon came afterwards. Although time seemed to fly by for my friend, it was still very enjoyable for him.
I did not need to use much words, I just have to make tea with my heart while he recalls all his wonderful experiences. Just after he drank his tea, I also made a cup for myself.
After when we finished our tea, I walked with him to his car. I waved my hand and wished him a safe trip as he left the drive way.
Tea can be enjoyed throughout life. Whether it's through an initial acquaintance or farewell; through joy or through sorrow, with anyone at anytime, all from the same cup but with different experiences.

myhasami.com