Aiyu Porcelain is a ceramic wholesale and retail trading company in Hasami that has their own personal line of porcelain as well as porcelain from many other manufacturers. They opened their doors in 1985 and have since then began creating and selling many styles of Hasami porcelain.
The shop of Aiyu Porcelain has a very rustic feel to it. The main gallery is housed within an old warehouse that is used as the packaging center and office as well. Walking through the main entrance gives off a sense of excitement as the atmosphere is welcoming and wholesome.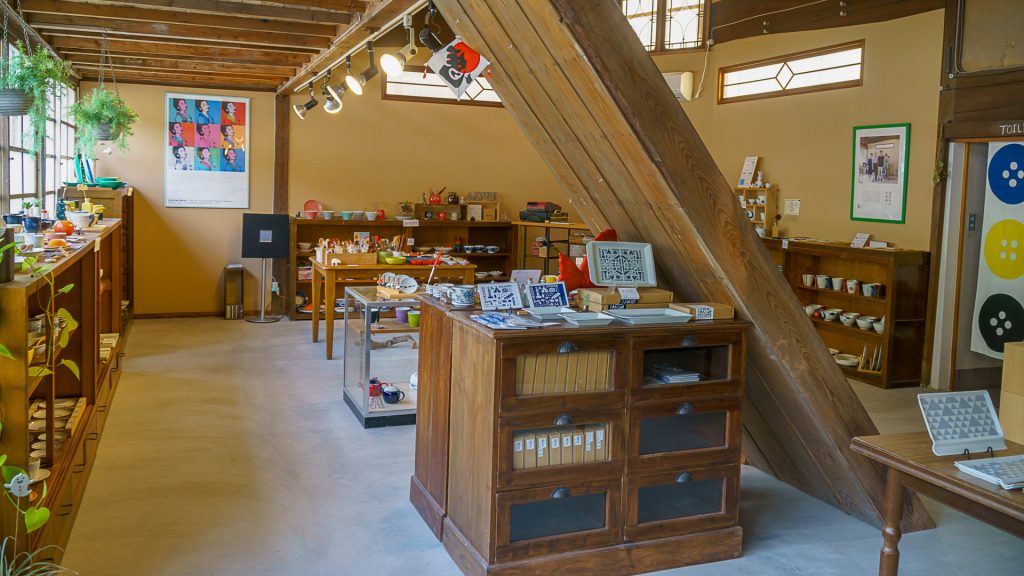 The shop itself has gone through a renovation leaving behind multi-leveled flooring to provide a more wheelchair accessible space. Along with easier access, the shop of Aiyu Porcelain also has a much more leisurely layout and an added sitting area for those wishing to take a rest and drink some tea.
Hasami porcelain is growing fast in popularity. A lot of that has to do with the 400 years of history, but another part is that the town is not trying to be something it is not. That is evident even within the porcelain stores themselves. This shop flows within the natural landscape of Hasami. It is natural and minimal, not flashy and loud. That is why Aiyu is so fun to go to!
Aiyu Porcelain sells a variety of items but most of them match well with one another, so let's introduce some of the items found at Aiyu!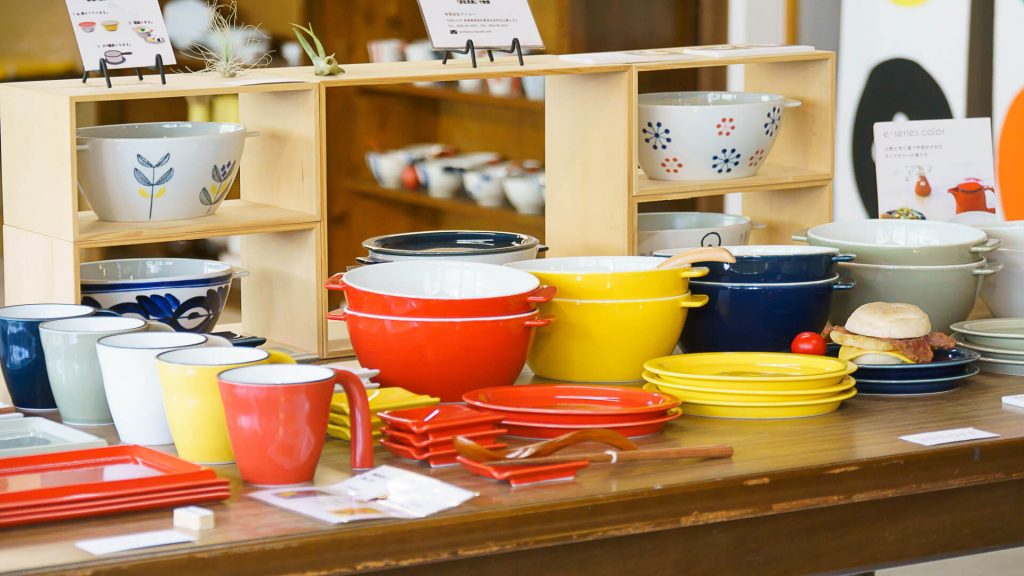 These dishes are part of Aiyu's E-series. They come in many different colors for any type of dish being made. The bowls can be used for anything including stew, soup, and curry. They are great for both Japanese and Western style cuisine. The best part is that they are stackable! Functionality is an important part of the design here.
The plates in this set also act as the lids to the bowls. They are shaped to have raised outer rims for easier handling. The E-series plates are great for ordinary meals, but because of the flat surface, they are even good for desserts such as cake and pie.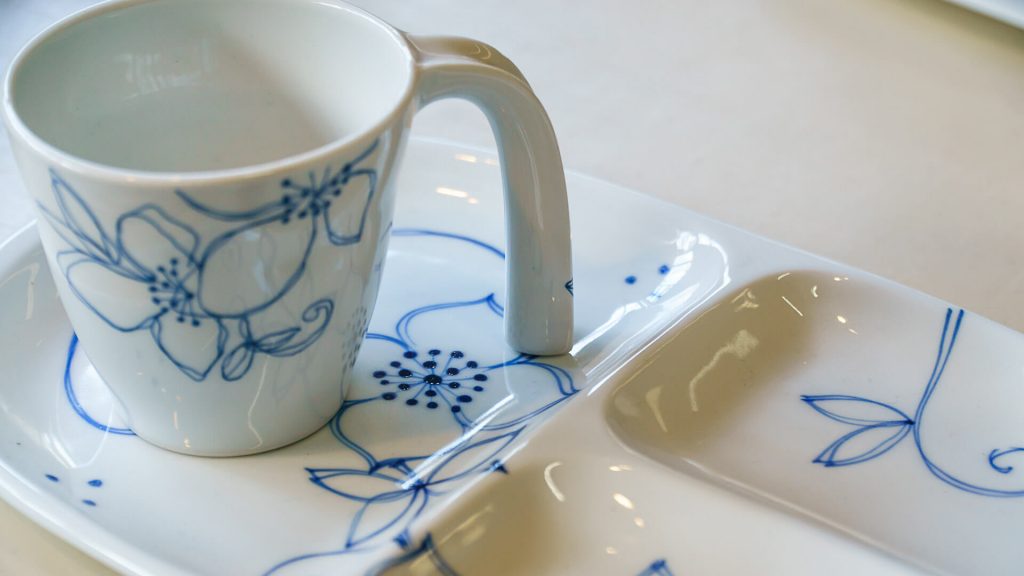 There are also more stylized, yet simplistic designs at Aiyu as well. This iron wire flower pattern is such a great example of simplistic art mixed with a practical design. This pattern comes in two colors, red and blue.
The mug design is a popular choice from people shopping at Aiyu. The handle acts as another support along with the base of the mug. Those interested in using this enjoy the extra sense of stability provided. The longer handle also acts as a better grip for those who have trouble with the regular looped mugs.
The divider plate also has compartments which make it great for breakfast or lunch. They are easily stackable for those wishing to take up less space in their cabinets!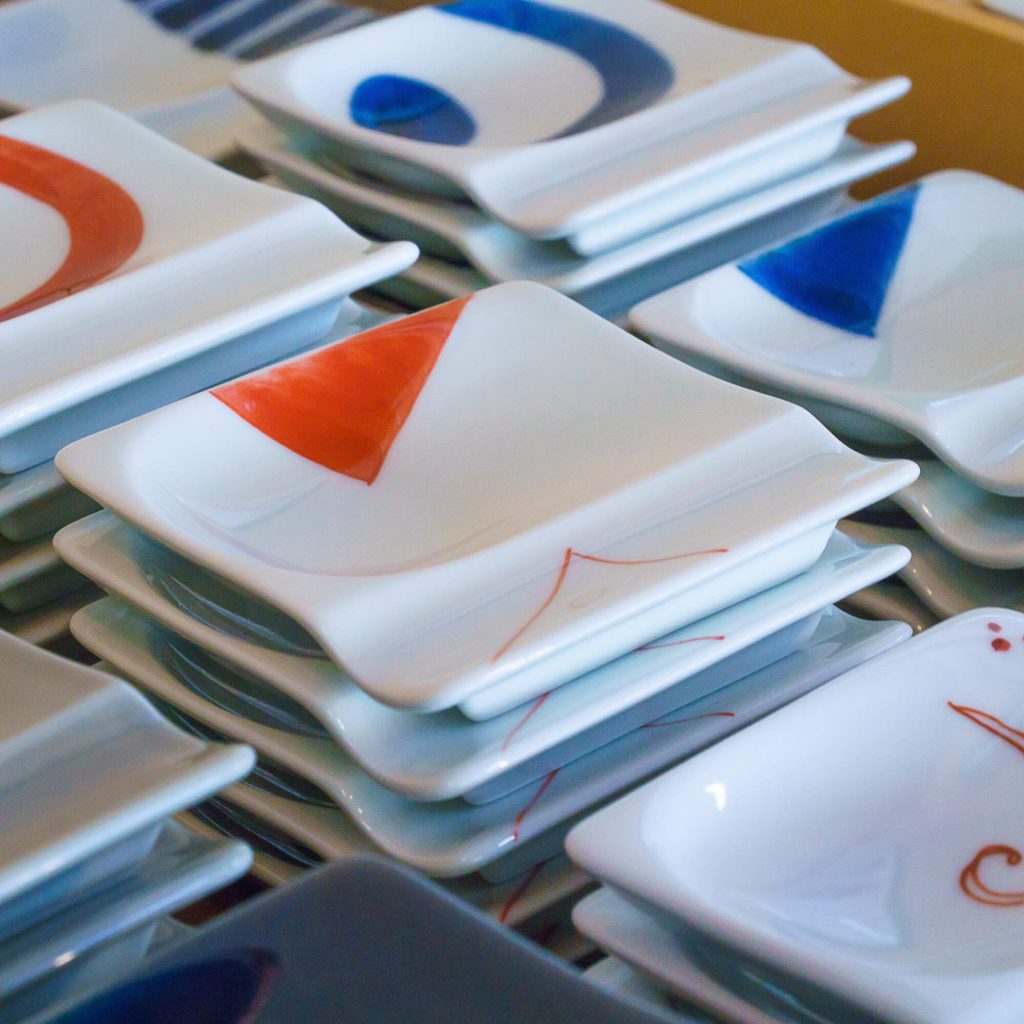 Our last example of something great that is found at Aiyu is their cutlery rest. This is their most popular item. With around 30 different colors and patterns to choose from, it is really easy to find one just to your liking.
These dishes are used for resting your chopsticks or spoon on. The larger recessed area can also be used for soy sauce or any other sauce used in your meal. This small dish is so convenient and fun to use.
Since these dishes are easily stackable and small, they are perfect as gifts or souvenirs.
If you are looking for a relaxing and appealing place to shop at while in Hasami, Aiyu is the perfect place to go. You will be able to see many designs and styles, as well as enjoy a nice cup of tea!
Hours: 10:00 – 17:00 / Saturday: 12:00 – 17:00
Closed: Sunday, National Holidays