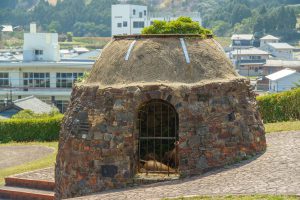 Hasami Yakimono Park – World's Kiln Plaza
Hasami Yakimono Park in Hasami features "World's Kiln Plaza", which showcases types of kilns that were used during various times in history. Take a stroll through this open-air museum and learn about the various types of kilns that were used around the world.
While driving through the entrance of Hasami Yakimono Park, we are greeted by a large ceramic painting called "Ceramic Road", that is 50 meters in length, and 2 meters in width. This impressive artwork has an amazing array of colors and will keep you in anticipation for seeing the rest of the park.
Yakimono Park is also home to the Hasami Porcelain festival held every year between April 29th and May 5th during golden week. At this event, you can take a look at all of the kilns that are in Hasami. With each porcelain company offering different types of dishes, you are sure to find something that peaks your interest.
There are recreations of 12 different kilns from various parts of the world like Korea, China, Europe, and Japan, but I will introduce just a few of them. It is interesting to see how various countries differ in the way of making kilns and pottery. This place allows for an easy way to see just that.

From the top of ceramics Park, you will also be treated to a 360-degree view of the town on one side, and an endless view of the many mountains that are surrounding Hasami.
Horizontal Draft Kiln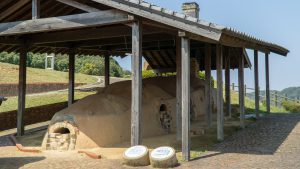 This kiln started seeing use in the 16th century, making its way from China and the Korean Peninsula. This type of kiln was mainly used for the production of pottery in Hasami, Arita, and Karatsu. The unique quality to this kiln is that it is created on a slope, with many chambers added depending on the length of the slope.
This type of kiln was used in the town of Nakaoyama in Nagasaki, and the slope can be walked up and the remnants from the old kiln can still be seen today. The use of this kiln lasted until the beginning of the Showa period (the 1930's).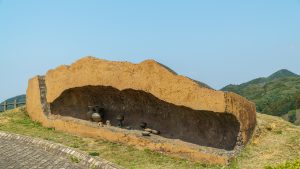 This is another example of a horizontal draft kiln, except this type of kiln found its use from around the 5th to the 13th century in China, the Korean Peninsula, and Japan. This kiln was created by digging a hole into the ground. Temperatures from this kiln would reach up to 1200°C.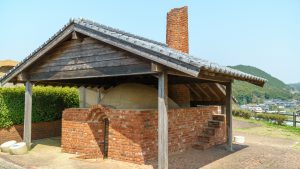 This kiln dates way back to 10th century China and a few of these kilns are still used in Chine to this day. The main feature of this kiln is the speed at which the containers are fired, in which it only takes 24 hours.
Down Draft Kiln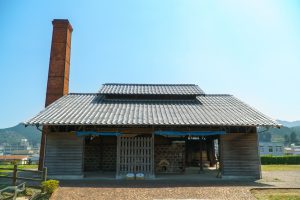 This kiln was first introduced to Japan from Europe during the Meiji period (the late 1800's). This type of kiln originally used coal and firewood as the main source of heat until around 1975 when gas started being used instead. This kiln was used alongside the previous kiln until the 1930's.
It is interesting to see the different styles of kilns used throughout the world and when each type of kiln was used. Learning about how the ceramics in Hasami were made bring out more understanding and appreciation for the quality and workmanship offered!
Getting to Hasami Yakimono Park is quite easy, and there is a large parking lot available should you come by car. The park is open at any time during the day or night and is free to visit.
This park is also conveniently located next to the Hasami Tourism Exchange Center, which has porcelain for sale form over 30 kilns in Hasami, as well as a museum on the 2nd floor that gives more information about this town and shows old pieces of Hasami porcelain and pottery.