One of the Oldest Climbing Kilns in Japan
Within the enclave of the Japanese mountainside lies one of Japans oldest climbing kilns. In the quiet, but peaceful pottery town of Hasami, this kiln was designated as a national historic site on September 6, 2000.
But Just How Old Is Hata No Hara Kiln
This kiln is said to be over 400 years old and built during the Keicho year of japan (1596-1614). Not only was this kiln built a long time ago, but it was also in use for over 30 years. With 54 rooms at 55.4 meters in length, this is one of the longest climbing kilns in Japan as well.
What is A Climbing Kiln?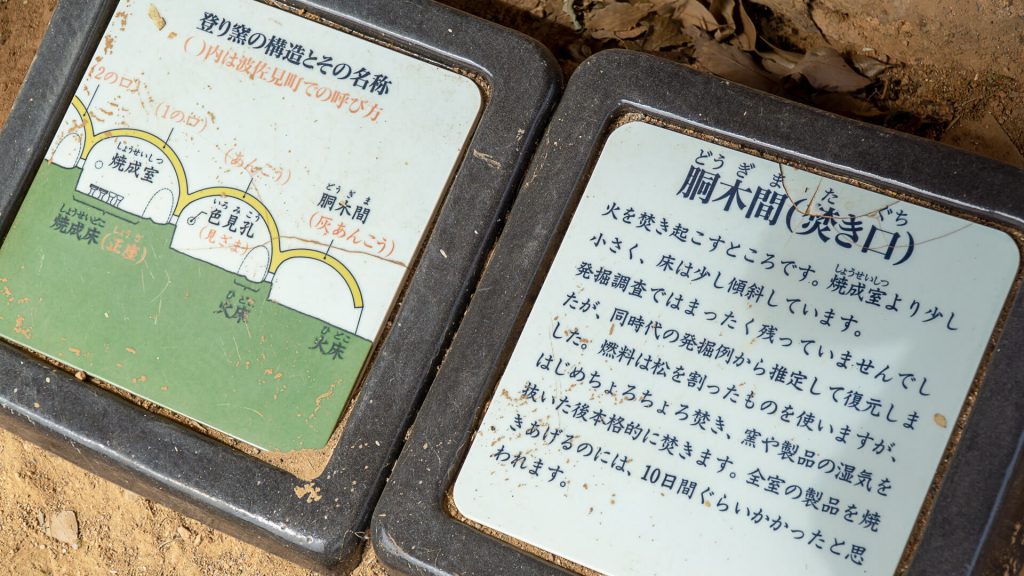 Climbing kiln, or noborigama, in Japanese, got its name because it is built within the natural landscape of Japan. Each consecutive chamber is built higher than the previous one and was often built on a mountain or hillside.
Each chamber is joined allowing for the draft to pass from one chamber of the kiln to the next. Heat would only leave from the very back of the kiln. In the case of Hata No Hara, this means that the heat would travel through 24 chambers until it finally exits. This was great for the recycling of heat and large production of pottery.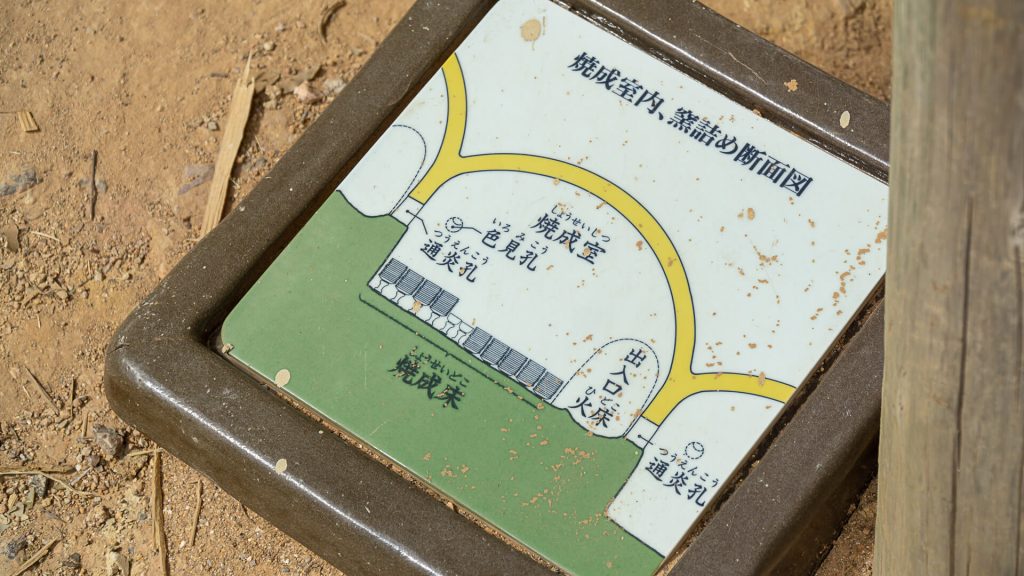 This type of kiln could only work in villages with a specialty in pottery production since large quantities of are required to fill each container. This type of kiln is what propelled Hasami pottery.
Driving Through Hasami
Although Hata No Hara Kiln is located within the mountainside of Hasami, there will be no trouble in finding its location. While driving on Prefectural Road 107, you will come across a sign pointing you in the right direction.
Going in the fall offers beautiful scenery along the way. During this time the rice fields are emitting their yellow fall colors which means it is time for harvest. Wild flowers called "Cosmos" also start springing up. These flowers bloom in an array of colors ranging from pink, to white, and even dark red.
Before entering the kiln area, there is a great rest stop to park and the restroom located here is also clean and well kept.
Making Our Way to the Kiln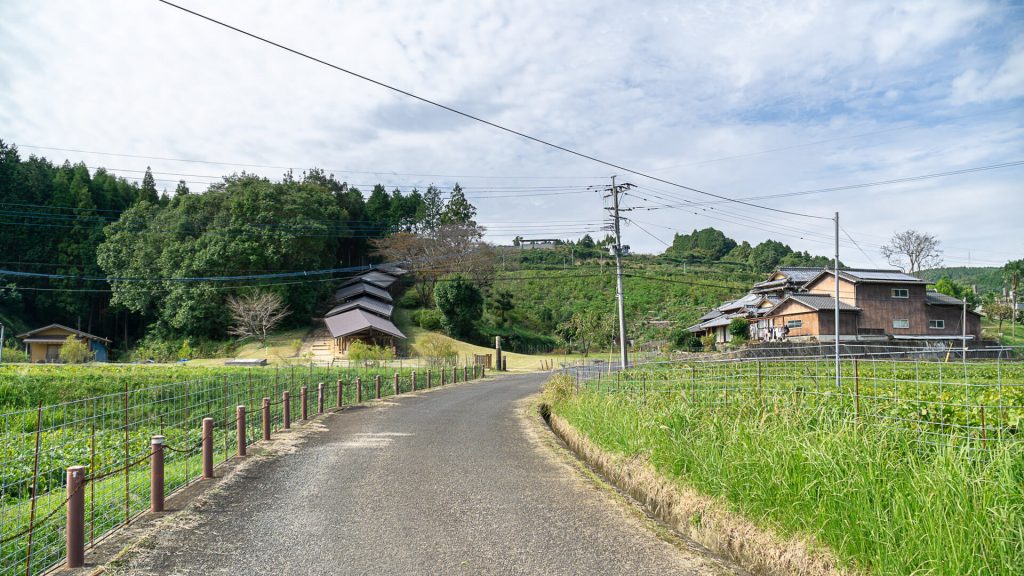 This is the view leading up to the kiln. The area is surrounded by more rice fields and fresh air. The atmosphere here is relaxing and welcoming. The sound of nature including birds, and small streams can be heard as we make our way to the climbing kiln of Hata No Hara. Depending on the day, this area can be quiet and serene, allowing you to visit at your own pace.
Hata No Hara Kiln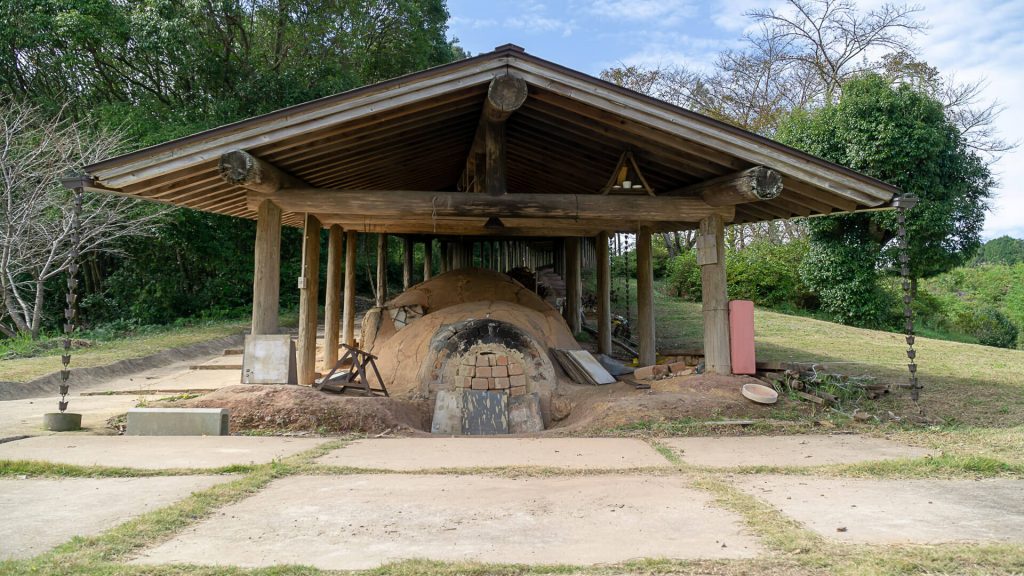 Upon arrival, there will be a small fence and electric gate wrapping around the facility. Do not be alarmed as this is only used at night to make sure deer or wild boar do not make it inside.
This area is open at all hours of the day as it is an outside exhibit. Please feel free to visit whenever you have the chance.
Hata No Hara was excavated and reconstructed in the exact position it was used in from over 400 years ago. 4 rooms have been created as an exact replica from the way it looked when first constructed and functions as a kiln to this day.
The black blocks on the right-hand side, is where the next compartment would be situated. As you can tell, this climbing kiln still gets a lot of use from time to time.
If you are interested in Japanese history, or pottery, there is nothing better than visiting the Hata No Hara Kiln. The amount of history behind it and the location allows for a perfect stop on your way through Hasami. Because of kilns like this, Hasami was able to produce large quantities of porcelain at prices fair enough for almost any Japanese person to buy during that time period.
If you would like to read more about Hasami, have a look at Nakaoyama, the 400-year-old pottery town of Hasami. Here, you will also be able to see another climbing kiln, as well as many porcelain shops.