Nishinohara
One of Hasami's must-see spots is Nishinohara. Here, there is a little bit of everything. If you are looking to get a bite to eat, stop for some coffee, take a look at Hasami porcelain, or just relax in a scenic area, this is the place to go.
Nishinohara and its surrounding area are made up of factories and old buildings used many years ago during the beginning of the Showa period. Most of the buildings here are registered as national tangible assets in Nagasaki. The plot of land that makes up Nishinohara is around 1,500 tsubos (a little over 1 acre).
Monne Porte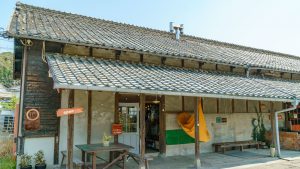 Monne Porte is a large building characterized by its rustic feel, wide open event space, and stationery shop. Before entering we are greeted by many Koi fish enjoying their day. From the entrance to the building, we can immediately see the interesting characteristics of this space. The event space is the first room you will walk into.
This is an open area that holds events throughout the year. The events always seem unique and fun. Walking into Monne Porte is always exciting because the experience is always different and could range from art shows to small markets filled with handmade goods, to live shows and concerts. The events also coincide with the seasons, and everything seems to match with the atmosphere of the building.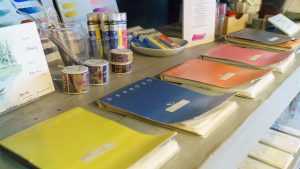 The second room within this building is a stationery shop. Here we can buy many fun stationery items. The way that this shop is decorated is cute and alluring as well. The theme seems to be"useful and fun."The items within the store are carefully collected and can be used to create an extra touch of creativity to your writing or notes.

Grocery Morisuke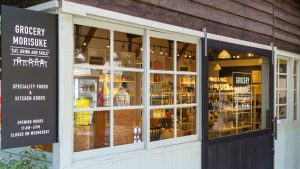 Grocery Morisuke is a small, niche-like grocery store specializing in food brought in from around the world. This shop offers natural and organic foods and ingredients. Grocery Morisuke tries to turn a usual meal into something more enjoyable.
The high-quality products sold here can be used to cook on many different occasions. It can be especially refreshing to try one of their many drinks that may be a little harder to find.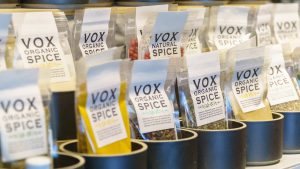 The spice selection is not only plentiful, but also organic. The spices here are in their most basic form, and because of that have nice, rich flavor. We have the chance to use products that are healthy and beneficial for our bodies.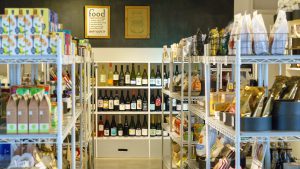 You will also be pleasantly surprised by the selection of wine and beer available here. Many of the drinks are hand-picked and carefully selected. The variety and flavors of wine vary to fit any type of meal or occasion.
Grocery Morisuke keeps in touch with the feeling of Hasami. Hasami is a quiet, relaxing, and enjoyable place, and this store reflects that feeling as well.
Isozaki Coffee Shady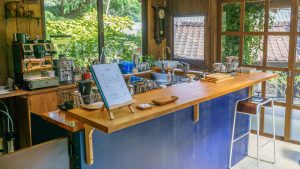 The aroma of coffee reveals that you will be coming up to Isozaki Coffee Shady. Here we can find fresh, seasonal coffee beans that we can be chosen to drink there or buy and use at home.
This coffee store has been opened two generations ago and is still a family business. It is nice to get some local hospitality from the workers here! Coffee is served in mugs made in Hasami which make the experience even more fun!
Kourigama Ice Kometama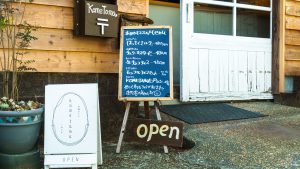 This ice cream shop offers something unique that other ice cream stores do not, and that is the eggs used in making the ice cream. The owner raises his own chickens on a rice diet that is also grown and cultivated on his property. This gives the eggs a different characteristic compared with most eggs sold in other stores.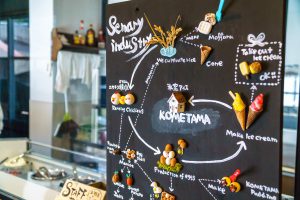 Everything here is hand-made, including the ice cream cones. There are ten traditional flavors offered year-round, while other flavors also emerge during the change of seasons. As everything is hand-made, this is the go-to store for amazing ice cream. Most of the ice cream costs around 420 yen to 500 yen.


Minami Souko (South Warehouse)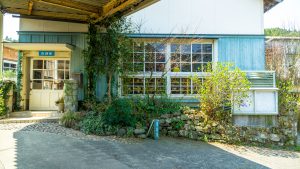 This building was originally used as the shipping office for Hasami pottery. Now, it has been brought back to life and is being used to showcase some of Hasami's top porcelain brands. This shop specializes in selling functional and natural pottery.
Five brands of Hasami porcelain are sold here. These brands offer a simple yet stylish and convenient design, along with the more natural look of pottery. The photo above displays one of the more popular brands in Hasami. People love this for its intuitive stacking design and natural colors.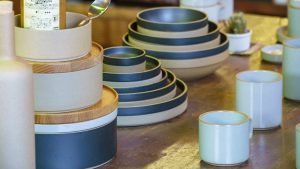 833 Library and 833 Wall
Nishinohara has recently installed two new facilities. A large indoor bouldering wall, as well as a comfortable library that has been constructed in one of the older porcelain warehouses.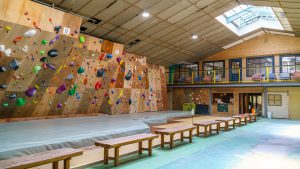 833 Wall is a great place to stop by and give bouldering a try. Whether you are bouldering for the first time or a seasoned pro, 833 Wall has the staff to help you along the way. It is fun to learn how to boulder and get encouragement to try even harder. The wall offers sections for people with varying abilities so go ahead and try your luck at bouldering!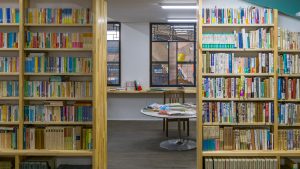 The library is located within the same facility as the rock climbing wall. Here we can relax and read from the many books that are available. The books here range from novels, to travel guides, to Japanese comics.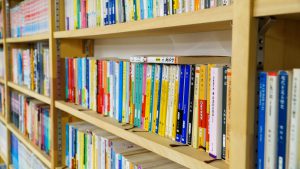 The library is a great place to rest after giving the climbing wall a try. This library also has a neat system in place where you can bring one of your own books and exchange it with any book in the library. The books here can also be taken outside to read if you would like to read in the sun or at one of the many seating areas at Nishinohara.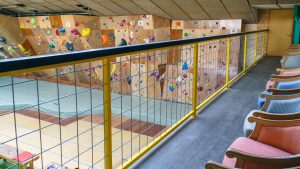 The library is situated on the second floor and has a seating area along the outside of the building that offers a great view of the rock wall. Sometimes you can sit out here and read, or watch the pros take on the climbing wall!
Monne Luigi Mooks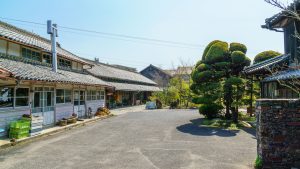 Monne Luigi Mooks is a café/restaurant that offers tasteful dishes using Hasami porcelain. This is a very popular restaurant in Hasami that has a relaxing atmosphere about it. You can take a seat at the counter or sit at one of the many sofa seats or tables.
The restaurant changes their menu daily, making sure that the ingredients are always fresh and coincide with the changing of the seasons. This means that every-time you go here, the food is something new and delicious! Locally produced fruits and vegetables from the farms around Hasami are used in all their meals.
On the second story of Monne Luigi Mooks, there are a few hammocks that you can lay down in and rest for a while as well.
Many other stores and cafes line the walkways of Nishinohara, so you will have to come here and see them all for yourself! Nishinohara is also conveniently located near a few other popular spots to visit in Hasami and would be a fun addition to your plans whether you are in Hasami for travel or just passing through.