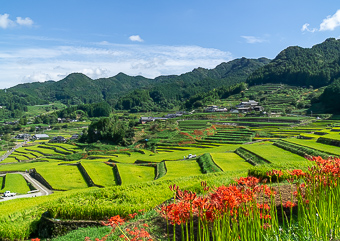 This terraced rice field in Hasami is voted one of the top 100 terraced rice fields in all of Japan. This rice field has many viewing spots which makes it one of the best scenic stops in Hasami.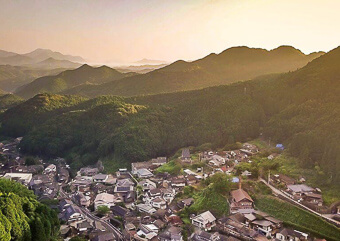 18 kilns are located within Nakaoyama. This is one of the main villages in which Hasami porcelain was being manufactured in from over 400 years ago.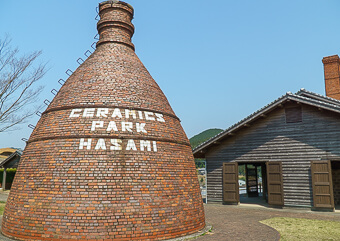 Hasami Yakimono Park is an open aid museum that displays 12 full size kilns used around the world from ancient times to the early modern era.
The Hasami Tourism Exchange Center offers travelers a place to buy Hasami porcelain, with selections from over 30 kilns. They also offer guides and information about traveling through Hasami.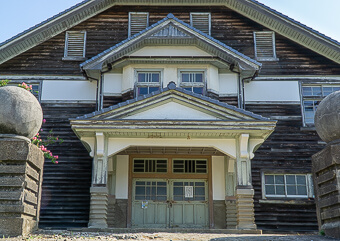 This large wooden structure was built in 1937 and used as an auditorium and public hall for Hasami High School. This building is now registered as a tangible cultural asset of Japan.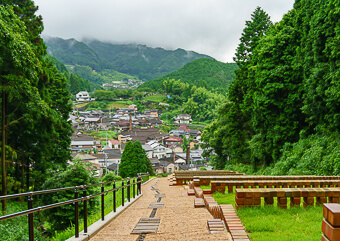 Nakaoyama Climbing Kiln first started production around 1615.This kiln consisted of 33 chambers that drastically increased the production of Japanese porcelain during its time. 
Weeping Cherry Blossom Tree
Blooming every year in late March, this large weeping cherry blossom tree can be seen from the valleys and roads below. For over 100 years, this tree has been blossoming and spreading its bright pink leaves.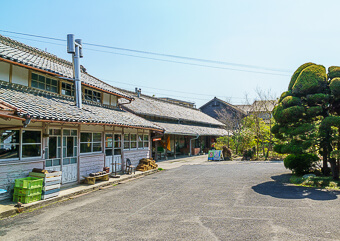 Nishi No Hara is one of Hasami's most popular places to go to unwind and relax. There are many places to visit including shopping areas, restaurants, cafes, art exhibits, and even a massive bouldering wall.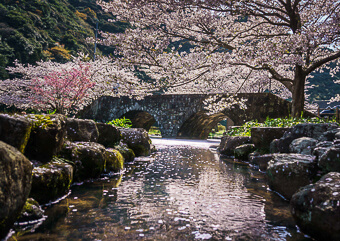 This stone bridge used to be used to connect two towns together. In 1908, as a need for a bigger bridge arose, this stone bridge was replaced by a larger one that could support the transportation of pottery. This still stands as the only spectacle bridge in Hasami.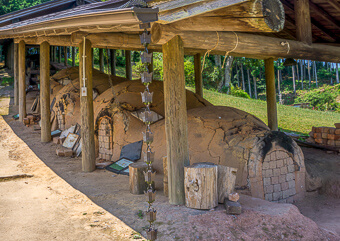 Built over 400 years ago, this is one of the largest climbing kilns in Japan, and was in use for over 30 years. The use of kilns such as this is one of the reasons that Hasami was able to produce quality porcelain in large quantities.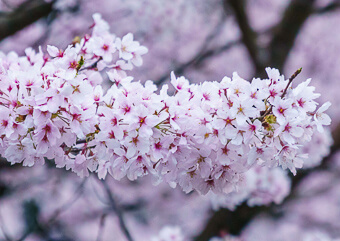 This 7km path will take you along a scenic route next to rivers and rice fields, all while walking underneath beautiful cherry blossom trees. This area is great for a stroll or to see the wildlife around the river.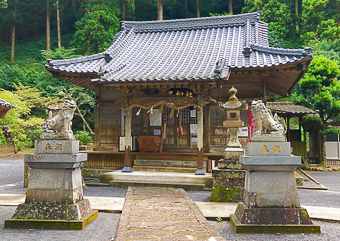 Kanaya Shrine was constructed around 742. Around this shrine are some of the areas oldest cedar trees, with the largest one being around 300 years old and standing 25 meters tall.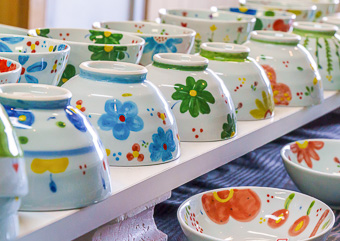 From cute cups, to plates and teacups, Akari creates hand-made dishes using cheerful and and bright pastel colors. Since everything is hand-drawn, the dishes and tableware always change with the seasons!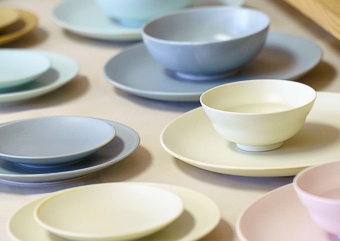 Eihogama was founded in April 1936, during the beginning of the Showa period. Using carefully selected materials, Eihogama continues to use the same manufacturing method as when they started.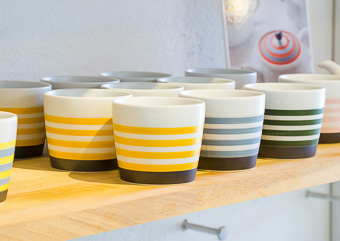 Ichiryu is a wonderful shop to visit in Nakaoyama. With a history of over 150 years, they focus on creating dishes that can be used everyday, for any occasion.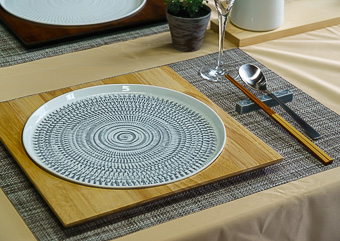 Issingama is known for the white dishes they make, which are carved thin to allow for the natural light to shine through. In creating their porcelain, they still use tools that would have been used in the past, while also implementing modern technology.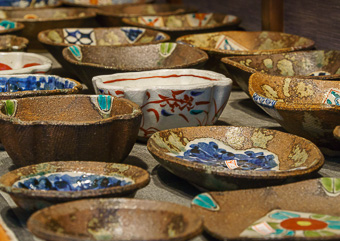 Kousaigama creates one-of-a-kind shigaraki-style pottery. This pottery uses special stone and heating methods to give the pottery its distinct earthy tones. This type of pottery cannot be seen anywhere else in Hasami.
Koushungama has a unique style to their porcelain. Most of their work is done in sharp, white colors with translucent designs. They sell many stylistic cups, mugs, plates, and tea kettles.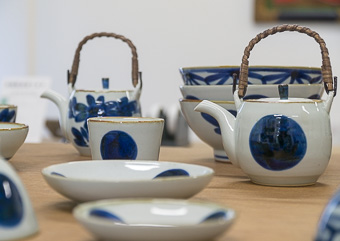 Maruhiro is one of the top porcelain brands in Hasami. Customers from all over the world come to Hasami to see the various dishes produced here. Their most popular item is the mug cup. This has a simple design to it that makes it easy to use.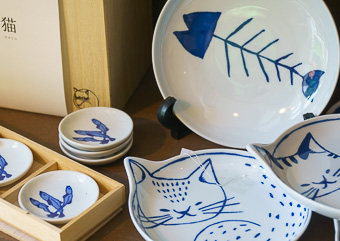 Mignon meaning "cute" in french, is a trendy porcelain shop in Hasami. The store is situated next to the mountains, a flowing river, and Hasami Spectacle Bridge, which creates a quaint and relaxing atmosphere while looking through the gallery.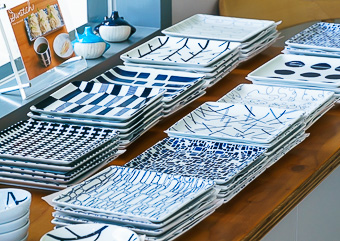 Natural 69 is a pottery store with many unique series of dishes including their famous "Swatch Series". The 69 in Natural 69 is actually pronounced "roku",  which was created by blending the Japanese words for 6 and 9.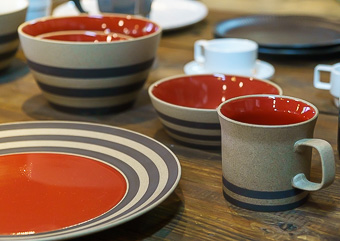 The motto of Nishiyama is to "make vessels through the viewers eyes".The gallery is absolutely stunning, as it was created within an old warehouse once used in the production of porcelain. Nishiyama does an excellent job balancing tradition with modern designs.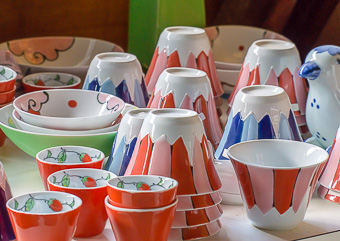 Bright colors and handpainted designs are the main characteristics coming from the porcelain of Oshingama. This Kiln sits where the largest climbing kiln in the world stood over 350 years ago.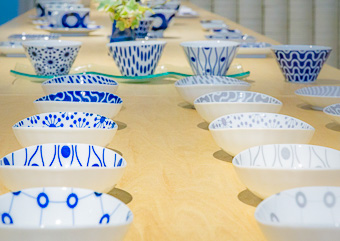 Oyane has a wide variety of porcelain from many potters in Hasami. The wide selection of porcelain offered here means that their will be something to fit everyone's taste. The gallery is also new and contemporary.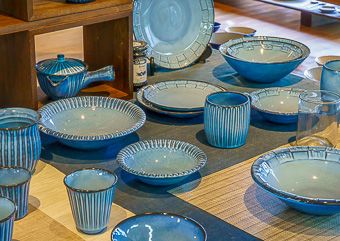 Rizaemon is a kiln in Hasami that specializes in handcrafted porcelain that has high functionality. Some of the most skilled craftsmen work here to provide customers with long lasting, and timeless pieces for tableware.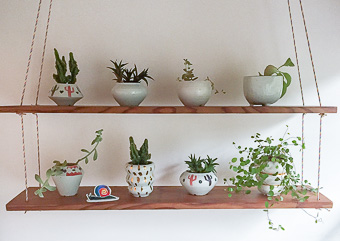 Studio Wani creates porcelain that is unique to Hasami, as well as useful and convenient for everyday use. All porcelain here is handmade and hand-painted.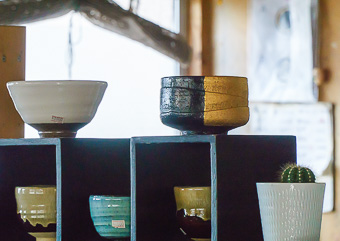 Taichigama incorporates modern methods while still keeping in touch with the traditional ways of creating Hasami porcelain. They create many unique pottery pieces that put usability at the forefront.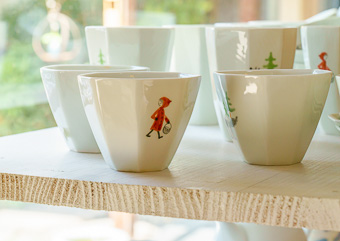 Toubou-ao started creating porcelain in 1972. They have both traditional and contemporary pieces of porcelain. The designs change depending on the season which makes each dish even more valuable and fun.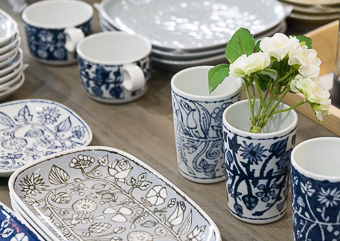 Wazan is a staple of Hasami porcelain. With universal designs, and a wide array of styles, this Hasami porcelain store creates some truly beautiful pieces of tableware. 
Kourigama Ice Kometama offers the best ice cream in Hasami. This shop is located within Nishinohara. The ice cream is created in a small "frozen" bowl that resembles a kiln. The uniqueness of this ice cream comes in how the ingredients are locally made.
Seishunosato is located right next to the Hasami hot spring and Hotel Bliss Villa Hasami. Eating here after taking a dip in the hot spring is really relaxing. The menu here consists of pizza, Italian, and Japanese style dishes.